Cisco WAP200
Jump to navigation
Jump to search
Manuf (OEM/ODM): Gemtek WAPS-169GN
Amazon image


ASINs
B005ATI9E0 (
, On Amazon, On CCC)
B005AOHB3A (
, On Amazon, On CCC)
multiple revisions of this device, use caution
Power: 12 VDC, 1 A
Connector type: barrel
PoE tag: 802.3af, standard
CPU1: Star STR9110 (200 MHz)
FLA1: 4 MiB4,194,304 B <br />32,768 Kib <br />4,096 KiB <br />32 Mib <br />0.00391 GiB <br /> (Macronix MX29LV320CTTC-90G)
RAM1: 16 MiB16,777,216 B <br />131,072 Kib <br />16,384 KiB <br />128 Mib <br />0.0156 GiB <br /> (Nanya NT5DS8M16FS-5T)

Expansion IFs: Mini PCI
Mini PCI slots: 1
WI1 module: Gemtek WMIR-180GH
WI1 module IF: Mini PCI
WI1 chip1: Ralink RT2661
WI1 chip2: Ralink RT2529
WI1 802dot11 protocols: bg
WI1 antenna connector: RP-SMA

ETH chip1: Star STR9110
ETH chip2: IC+ IP101
LAN speed: 100M
LAN ports: 1
Additional chips
802.3af PD Controller with Integrated DC/DC;TI;TPS23750;;1;
10/100 Base-TX VoIP Magnetics Module;Bothhand;TS8019M;1;
For a list of all currently documented Ralink chipsets with specifications, see Ralink.
For a list of all currently documented Star (Cavium) SoC's with specifications, see Star.

---
Wireless-G Access Point with Power Over Ethernet and Rangebooster
Cisco Small Business  • User Guide
"WAPS-169GN_V02" and "ENG-D06-6602R" is silkscreened on the board.
The FCC manual states the default SSID is linksys-g.. and it may,
perhaps, be.. for Linksys branded units (if any exist).
The default SSID of this device is ciscosb.
PSU
The power supply included with the device (US) appears to be a Leader Electronics
MT12-4120100-A1 (120VAC ~ 60Hz, 0.3A -> 12VDC, 1.0A).
Links
CNS1110-200BG304-AD00-G • STR9110 (32-bit ARM Core)
See also
Images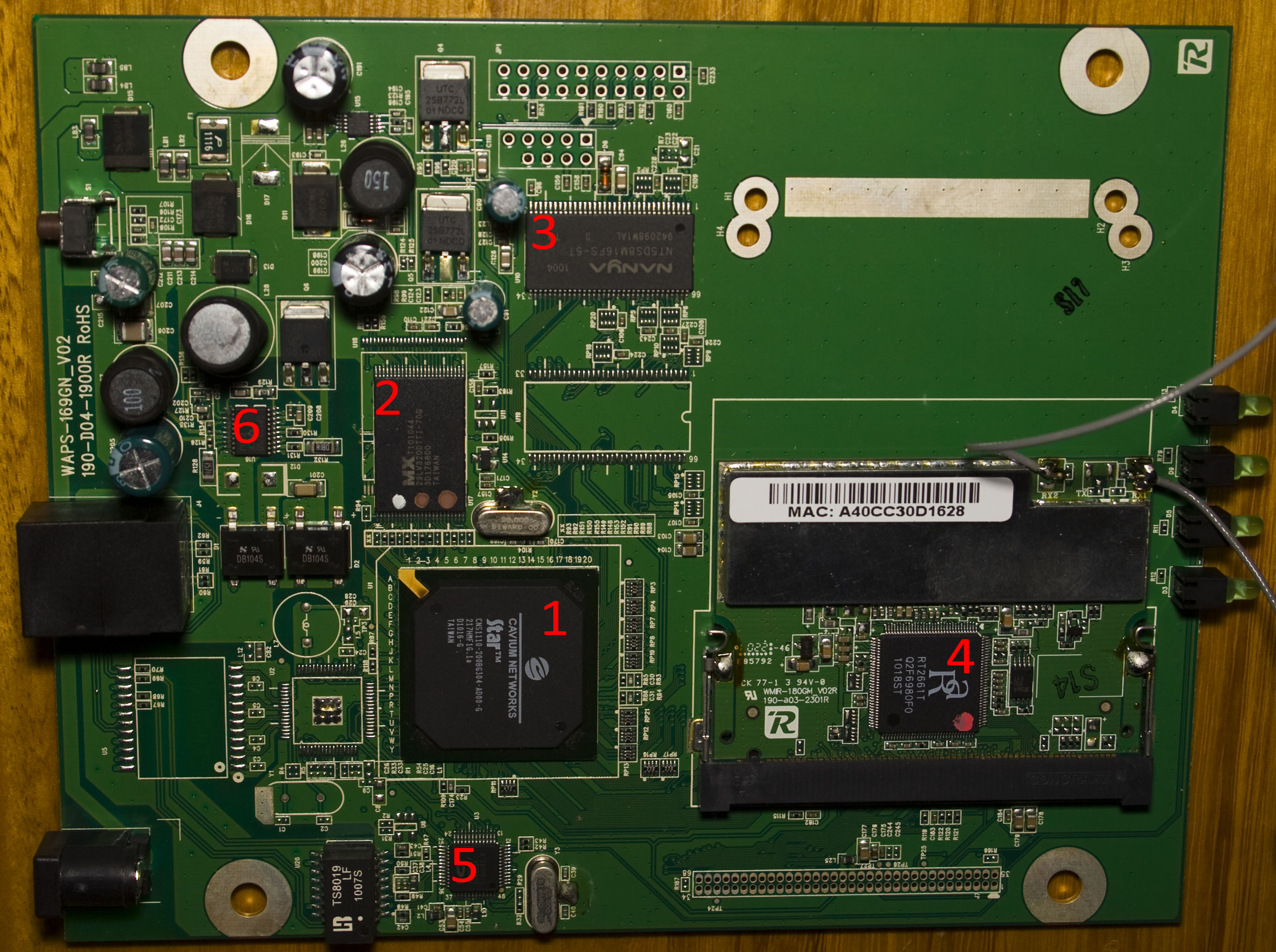 ---